Twitter Ads: Do they exist? And how do you use them?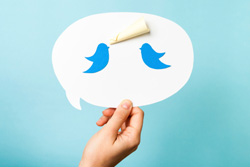 There's been a lot of talk about Facebook ads lately, but what about the other social media mainstay? Is it even possible to advertise on Twitter? The answer is yes, and in past three years, Twitter ads have come a long way. Currently, the Twitter platform is speedy, clean and intuitive with more features and options for advertisers than ever. If you're looking to branch out from the normal online advertising routine, Twitter is a great option. With clicks, replies, retweets and follows, there are a host of different actions to target and track.
There are two types of Twitter ad campaigns: Promoted Accounts and Promoted Tweets – you're either advertising your account or your tweets. As you build your business's social media strategy, familiarize yourself with the campaigns to determine whether one or both are a good fit.
Promoted Accounts
Are you primarily interested in increasing your Twitter follower numbers? Then this is the campaign to use. According to Twitter, this type of campaign will help you "build your follower base by targeting users with particular interests. Your account will be promoted in search results for related keywords and the 'Who to follow' section of Twitter."
With a promoted account, you can choose who you want to follow your Twitter @handle or use the interest categories. If you opt for the @handle, look for users similar to your current followers or base the search on other Twitter users. If you are using categories, keep in mind that this technique often yields quite a few impressions, but usually the impressions aren't very targeted.
Promoted Tweets
Twitter suggests promoted tweets to "target search results to connect your message to users searching for particular keywords. Target timelines to broaden your reach and engagement with interested users whenever they access Twitter." You can promote tweets in three different ways:
Keywords in timeline. You can look for Twitter users based on their tweet content. Of the two keyword techniques outlined here, this one yields more engagements and impressions.
Keywords in search. If you opt to bid on specific keywords, your promoted tweets will show up any time a Twitter user searches for those keywords. Due to the nature of Twitter, this technique doesn't result in large numbers of impressions. Typically Twitter users interact through discussions as opposed to searches.
Interests in timeline. You can think of this targeting technique as a three-for-one deal. You have the option of selecting targets based on interests, followers or a combination of the two. Followers – with this technique, you target your @handle's followers. Look for users similar to your existing followers or base the search on a similar list of @handle followers. Interests – there are more interest categories on Twitter than you could ever imagine. Regardless of the topic, you're likely to find something that will fit the bill. Twitter rounds up users by interest through their profile information and tweet content.
For more in-depth information on how to use Twitter ads, see this post from ClickZ, "Twitter Ads Have Come a Long Way, Baby."