Pinterest for Men: A Quick Look at Some 'Manly' Alternatives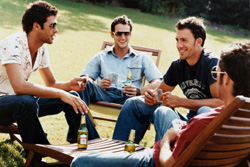 Let's talk Pinterest stats – for instance, the one that says 80 percent of Pinterest users are women. As of February 2013,
Business Insider
reports that there are 25 million Pinterest users. That's a lot of women! If your business sells products or services that cater to women, then you need to get in this space. But what about the men? Pinterest might not be the best option, and it's certainly not the only option, when it comes to selling a more "manly" brand image. Here's a quick look at some popular "Pinterest for Men" sites that have popped up.
Gentlemint boasts that it is "a mint of manly things." The homepage closely resembles the Pinterest layout and categories range from alcohol and cars to architecture and world news. Users can view the most popular "tacks" at the moment, from the week or month, or from all time. Gentlemint also features The Reserve, a curated selection of offers that users can purchase at a discount.
Dudepins has pins, but instead of going on a user's pinboard, they accumulate on his "montage." Also, instead of a "Pin it" button, users install the "Pin up" button to their bookbarks bar. Many of the other Pinterest features like re-pinning, liking and commenting are available on Dudepins as well.
If the lighter, more refined aesthetic of both Gentlemint and Dudepins is still a tad too feminine for men, they can head over to Manteresting, which features a darker background and an industrial theme. For instance, pins are "nails" and they're organized on "benches."
According to the Dartitup creators, the site is for collecting "ideas for bachelor pads, bachelor parties, man caves, sports equipment, gadgets, clothing and whatever else sparks your interest." Users of Dartitup predictably "Dart it" instead of "Pin it," and darts collect on dartboards. One of the interesting features of Dartitup is the Dabate boards with questions like "Who has been the top player in the 2013 NBA playoffs?" and topics like "Top 10 Badass Actors."
Depending on your industry and what kind of product or service you offer, a profile on one of these sites may be a good idea to give your business another touchpoint for consumers. Browse these sites and consider setting up a profile, and then start tacking, or nailing, or darting away!