Top Social Media Tools from Scheduling to Reports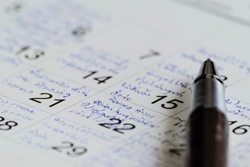 When it comes to social media for business, there are a lot of things to remember and keep up with – have you responded to tweets, have you posted your new schedule or product announcement on Facebook, how many entries have been approved for your quarterly giveaway? You understand it's important to share relevant content on a daily basis, but how do you keep up and keep your followers engaged and cared for? Fortunately, there are a number of social media tools that can help with the day-to-day operations of managing social media for your company.
People who use social media for business often find that they have trouble keeping up with all of the content they need to post. If this is you, don't fret – there are a couple really handy tools for scheduling posts. HootSuite and TweetDeck are two of the most popular options. Both programs are available online and as desktop downloads. Not only can you schedule content, but you can also arrange feeds and create filters to focus on what matters, stay up to date with notification alerts and much more.
ShortStack is a platform for designing Facebook apps and promotions, and chances are, you've seen ShortStack in action. Many companies use it to create videos, giveaways and contests. With a wide range of tools from custom forms to promotions, ShortStack is a great option for people with limited-to-no design or development experience. The platform streamlines the process of building a Facebook app with templates and an easy to use interface, as well as collecting contest entries and data.
Many individuals and companies are on board with creating appropriate, motivating content, but they don't track their results. When you don't take the time to listen and respond on social media, you might as well not be there. Your content is what gets people hooked. Now you have to keep them there. Like Google Alert for social media channels, Mention is available online and as a desktop and mobile download and allows you to monitor from virtually every online source including social media, news sites, forums and blogs. You also have the ability to export all of your analytics to further analyze them as needed.
Ever wish you had a way to collect content from all social media networks and organize it into one cohesive story? Storify allows you curate your social networks, bringing the most important and noteworthy things to the forefront – whether they're photos, videos, posts or tweets. This platform helps you cut through the noise and call attention to the successes, the improvements, the reactions, whatever you want to highlight in your story. Businesses can use Storify to create reports including analytics, as well as private stories and more.