Social Media is Constantly Changing – Here's How to Keep Up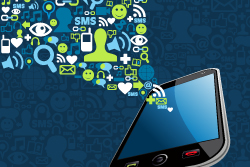 The pace of technology can be quite intimidating for some marketers and business managers. It seems that as soon as you get one initiative implemented, three more added to the queue. So how do you keep up? How do you keep your marketing strategy on the leading edge of these trends?
Let's take a look at three of the hottest trends in social media for businesses, along with some questions and answers on how to address them.
Health care in social media – The health care industry is making a play on social media in a big way lately. Whether you're an insurance provider, a medical professional, a hospital, a medical practice or a pharmaceutical provider, you can leverage social media to educate patients and inform clients about changing policies or issues. However, there are serious compliance and privacy issues that must be adhered to or penalties could be levied.
Mobility – The use of social media on mobile technology has exploded in the last year. Millions of consumers now use their smartphones or tablets as their primary social media device. Businesses must adapt to mobile technology to provide compact and succinct information that is provocative for their target audience.
Influencers – An emerging trend for businesses is leveraging a community of loyal customers and stakeholders to further promote your product online. This involves a lot of social media engagement that is highly interactive and responsive. Businesses need resources to help build influencer status and cultivate a strong community that will generate referrals and leads.
All three are terrific trends that every business should seriously evaluate and implement to some degree. But who's to say what the next trend will be? How can you stay on top of this without breaking your marketing budget?
The best option is to partner with a firm that specializes in online marketing and can provide expertise in social media for businesses. With the right marketing partner, your business can take full advantage of all aspects of social media while also staying well-informed of changes in the social industry. Your partner can provide helpful advice and guidance on when to get in on a trend and when to ignore a passing fad.
Consider a marketing firm that has a strong online presence and experience in social media. Your firm should also pay close attention to your specific and unique business model and align a social media marketing strategy to your overall business goals. With the right partner in place, social media trends can turn into marketing success for your company.