How to Build Your Brand on Pinterest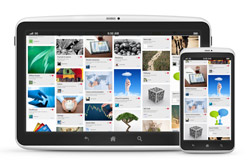 Not all social media is created equally – for example, people use Pinterest for different purposes than Facebook and Twitter. It's important to understand these differences when increasing the scope of your brand's social media presence. If you're thinking of joining Pinterest, your content must be highly engaging and easy for users to share. A social media agency can help you consider how to use Pinterest to build your brand and support the purchase process.
Idea generation
Nearly 70 percent of Pinterest users access the site to get ideas and inspiration for any number of things, from recipes, parties and holidays to clothing, do-it-yourself projects and more. Since users "repin" photos of what inspires them, Pinterest is all about visual content. How can your visual content address the needs of your target audience? A social media agency will be able to work with you to create strong marketing and social media persona for each part of the purchase path to ensure appropriate, engaging visual content.
Brand discovery
More than 20 percent of Pinterest users discover new brands either through the Pinterest homepage or specific pin-boards. This means that brand discovery goes far beyond brand boards. Encourage your regular subscribers and new visitors to spread content from your brand via Pinterest. Creating visually appealing content and using relevant call-to-actions will make it much more likely that this sharing happens on a regular basis.
Brand builder
Pinterest users often gather more information about products they've discovered through Pinterest. While many people are only interested in following new brands if they receive coupons or other incentives such as free items, just as many people follow brands simply because they believe that the brands reflect their lifestyles. Pinterest is a great platform for learning more about specific brands and products. As such, it's important to show off your products in the best light possible. Don't forget to include descriptions that detail how to use or style products.
Purchase indicator
More than half of the Pinterest users who pin products intend to purchase them at some point in the future. And more than 20 percent of these users do go on to purchase the products. Take the time to monitor the users who are pinning your products as well as the products of close competitors in your industry.
Industry content engagement
There are a number of industries that have success with particular types of content engagement like Pinterest. For example, the fashion industry lends itself naturally to visual presentation and heightened engagement. Before you begin pinning, consider your industry and how a visual social media platform will fit into your brand. A social media agency can help you determine the best way to portray your brand to Pinterest users.