How Can Competitor Research Improve Your Social Media Strategy?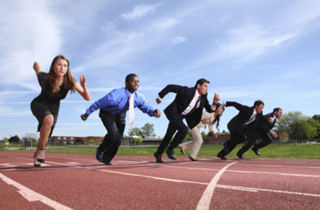 If you're a business owner, you've got an eye on your competitors. What new products are they introducing, how many new clients are they representing, where are their new stores located? And more than likely, many of your business's efforts are tied in some ways to theirs. This is no different when it comes to social media. Don't think for a minute that your competitors aren't in the social space. Many of them are, and if they aren't, they soon will be. So check out these tips for conducting competitor research that will improve your social media strategy and help you stay one step ahead.
Determine the Competition
First, know who you're dealing with. Find businesses in your industry that are close to yours in size, location, revenue, etc. This is your starting point. But keep in mind that size and revenue (and sometimes location) don't often matter to the consumer. So from your starting point, find competitors that are bigger or ahead of where you want to be revenue-wise. And also some who are smaller both in size and revenue. The key is having a broad scope of the options available to your target consumer.
Examine their Social Media Networks
For each of the businesses you've determined are competitors, find out where they are on social media. It may even be a good idea to follow them yourself. But think that over carefully. When you watch your competitors' activity on social media, you most certainly can pick up ideas to implement for your own business. Outright copying, though, will not only anger your competition, but also will make you look unoriginal and insincere to your consumers.
Regardless of if you decide to follow them, you should periodically examine each competitor's profile for:
Number of followers
How often they post
What kind of content they post that gets the most engagement
The overall aesthetic of their pages including business description and images, particularly profile pictures and cover photos
Notice if there's an increase in followers or in how often they post. Is it too much? Does their content get a lot of engagement? Why do you think that is? Is their page visually attractive? Is it easy to find a description of the business, and do their photos accurately represent the brand? Can you see any flaws in their strategy that are pushing people away? What have they done recently that's seemed to work?
Be Ever-Watchful
Obviously, if you're not watching your competitors, then you won't know what they're up to. So make it a priority to keep a keen eye out for how your competitors handle industry changes, new product launches, customer service issues, rebranding – everything, all the time. Awareness is half the battle when it comes to staying ahead. The other half is analyzing what you've seen and creating a strategy that doesn't just keep pace, but outshines your competitors'.