How Businesses Can Use Instagram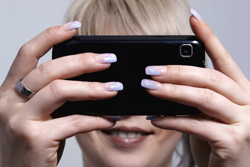 The popular photo-sharing app Instagram has taken mobile social media by storm – and businesses should definitely consider the marketing opportunities available through this interactive and widely used social media channel. Because Instagram profiles can run on multiple platforms including web, Windows, Android and iPhone devices, your business has the opportunity to reach quite a large audience.
Here are some ways to incorporate Instagram marketing into your campaigns.
Images have a powerful impact on consumers. Take a photo of your product and provide a quick message about it using Instagram. A restaurant could generate excitement by posting its special dish of the day, or a shop could create a sense of urgency by featuring a product that's flying off the shelves.
Contests using Instagram have become quite easy. Users can post their own pictures that are tagged with your contest name, and you can use a random generator app to pick the winner. This is a very engaging way to get your target audience involved with your brand.
Encourage customers to take pictures of your product or photos of themselves at your place of business. Their posts and comments promote your company to their followers. You can also encourage them to use a hashtag specific to your company or tag your company's Instagram profile in their post so that all their posts about your product or business are trackable.
Add a human element to your business by posting photos of employees at work (or play). These pictures can show your audience that you're relatable and fun. And they also imply that there are real people able to help them when a customer service need arises.
Promote events for your business by posting images of event preparations taking place and activities during or after the event. This can encourage potential customers to take part in the event or make them feel involved in aspects of your business they may not be able to be a part of.
Instruct your audience on ways to use your products or services. If there are special techniques involved with the installation or operation of some of your products, a picture or series of pictures could be the perfect way to communicate the information.
Make sure you use hashtags that are relevant to your picture and keywords or phrases that your target audience may use for searching. For example, a sporting goods store may use hashtags such as #Softball, #Baseball, #SummerSports and others to promote a particular sale on summer sporting goods.
Incorporating Instagram marketing into your overall strategy is an economical and effective investment for businesses of all types. With the help from a skilled online marketing partner, you can make the most of Instagram for your business.