Get to Know Emerging Social Media Networks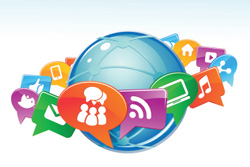 Social media giants like Facebook and Twitter are definitely the places to focus your business's social efforts, but it's important to have an eye out for emerging social networks as well. While the big networks aren't likely to go anywhere any time soon, be sure you consider what else is out there. Sure, there's Tumblr and Instagram, but are you aware of the up-and-coming social media networks that may mean big things for the future, including the following three sites?
Biz Stone and Evan Williams (the brains behind Twitter and Blogger) are back at it again with Medium, a blogging site described by them as an extension of Twitter. Users are able to find and share ideas, stories and knowledge that require more than the 140 character limit on Twitter. Also, Medium content is intended to reach a larger audience instead of just a close group of connected friends.
When you post on Medium, it immediately goes into one of the many "collections" on the site with everything from how to build kites to advice for incoming college freshmen. Users can then vote or "recommend" posts. These votes determine the ranking for each post on the site.
Whisper is an iPhone app that guarantees anonymity for its users – Whisper users can post their secrets or "whispers" without the fear of being found out. Each whisper takes the form of an online postcard. Users are able to like posts, send messages within the site and add responses to their own whispers. As of April 2013, there were more than one million Whisper users who had added approximately eight million whispers. The app has gone viral across college campuses in the United States and is popular in many high schools as well. There's a good chance it'll be taking over workplaces in the near future, too.
Chirpify allows users to purchase both digital and physical items through social media networks by simply replying to an item with the word "buy." Anyone can sign up for Chirpify in less than 30 seconds with a Facebook, Twitter or Instagram account. To start shopping, all you have to do is sync your Chirpify account with a PayPal account. As the world of mobile commerce continues to expand rapidly, more brands are embracing the notion of commerce through social media.