How to Develop a Brand Voice through Social Media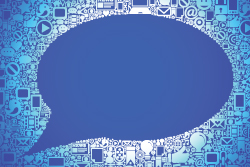 When you consider social media for your company, finding your brand voice may not be the first thing that comes to mind. However, even the best social media content available won't make an impact if it's not backed by solid branding. Don't get started confused and unclear about the sound of your brand – you want to have a strong voice right from the beginning. So as you develop a social media brand voice, take the following factors into consideration.
Character or persona
The first step of successful social media for companies is developing a character or persona. What does your brand sound like? What character attributes fit your customers' needs? What qualities do you want people to associate with your brand? In order to develop an appropriate character, it's important to have a thorough understanding of your target audience. Some businesses decide that multiple audiences and/or multiple social media networks require multiple characters.
Tone
Tone is the underlying layer that comes through in all of your communications. You'll use tone to develop your credibility and give your audience a good taste of the nature of your brand. Typically, it's best practice to use a humble tone, but for specific situations, other tones may be more appropriate. For example, some industries require a scientific or clinical tone. Others can get away with irreverence and make lighthearted jokes.
Language
It's essential to develop appropriate brand language for social media communication. This language includes the kind of words, jargon and phrases that you use on a regular basis throughout your content and dialogues. Don't come across as though you're trying too hard or out to prove something. Instead, be clear and relatable.
Goals
What are your goals in communicating to your audience through social media? A brand voice can go a long way toward helping customers understand the nature of a company and how it serves its customers. Consider the following questions as you develop your social media goals:
· Are you striving to inform your target audience?
· Are you working to keep them entertained and engaged?
· What can you offer that will be of value to your target audience once you have them engaged?
The answers to these questions will help you develop a road map for your brand voice. Some companies keep the road map to a simple, single sheet with brand voice attributes. As you design a road map, don't forget to use tag lines, including terms that people currently use to describe your business and terms that you want them to use.